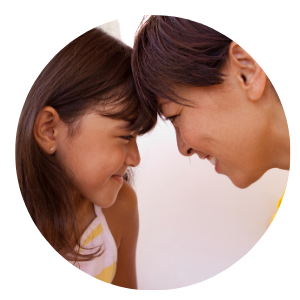 CYCLE PREP is an incredible gift to moms who desire open and clear discussion with their tweens regarding the specifics of their changing bodies. Christina explains the monthly cycle in a way that inspires awe for the beauty of the female body. I've been an avid fan of NFP for years and even I learned something! I am so thankful for such an amazing resource!
-- Katie Hartfiel, Author "Woman in Love"
We all know how horrible "period talks" can be at school.
Remember back when you were in school?
You probably sat through an awkward hour of some woman talking about bleeds and tampons, then went straight into a sex talk so you could learn about how to avoid pregnancy. The message you received is basically that periods are something to hide, and the female body is pretty much an obstacle to your happiness until you're done with menopause. If you're like the majority of women these days, you probably didn't get any information about what really happens in your cycle, or why it's a vital sign of health…
...and now your daughter is showing signs of puberty.
Cue the nerves, and the worry that she'll have a negative experience, too...
But your daughter's experience can be different!
And it starts with YOU.
As a parent, you want so much better for your daughter than what you've received in the past. You want to teach your daughter about actual cycle science-- far beyond just periods and tampons. 
More specifically, parents who believe in the dignity of our bodies and the sanctity of marriage and sex want to teach about cycles in a way that lays the foundation for these values.
You want to tell her that

her body is good.

You want to let her know that

periods are healthy and normal. 

You want to do so in a way that

doesn't force conversations

about reproduction and sex too early…
...And you want to do that in a way which keeps your parent-daughter relationship at the center of the conversation.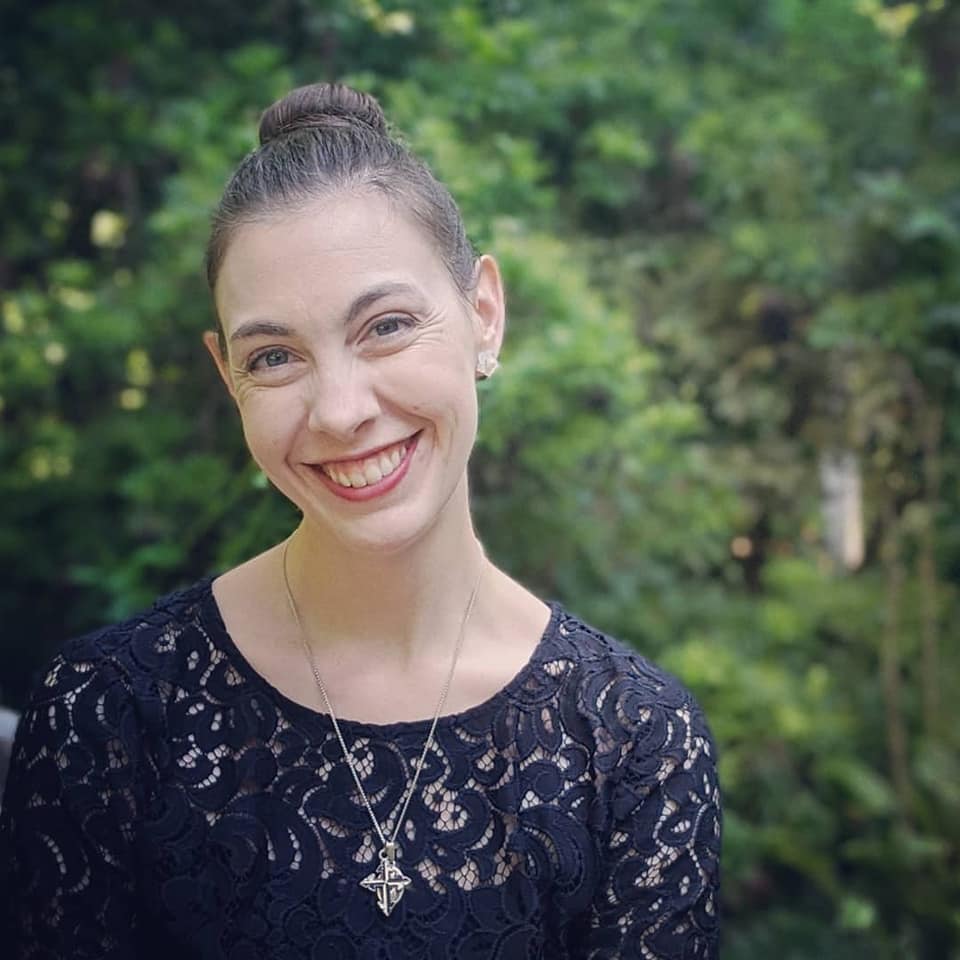 My name is Christina Valenzuela
I have been a fertility and cycle educator since 2013.
But more importantly, I'm a mom.
So when it came time to talk with my girls about their cycles, I knew I wanted to give them something really unique:
I wanted a program that would give them all the great science about cycles I teach to adults (never again will women say, "Why didn't I learn this before??") and I wanted to do so in a way that would help me keep the conversations going in the future— because my relationship with my daughters is one of the most important things in my life!
That's why I am really excited to introduce you to...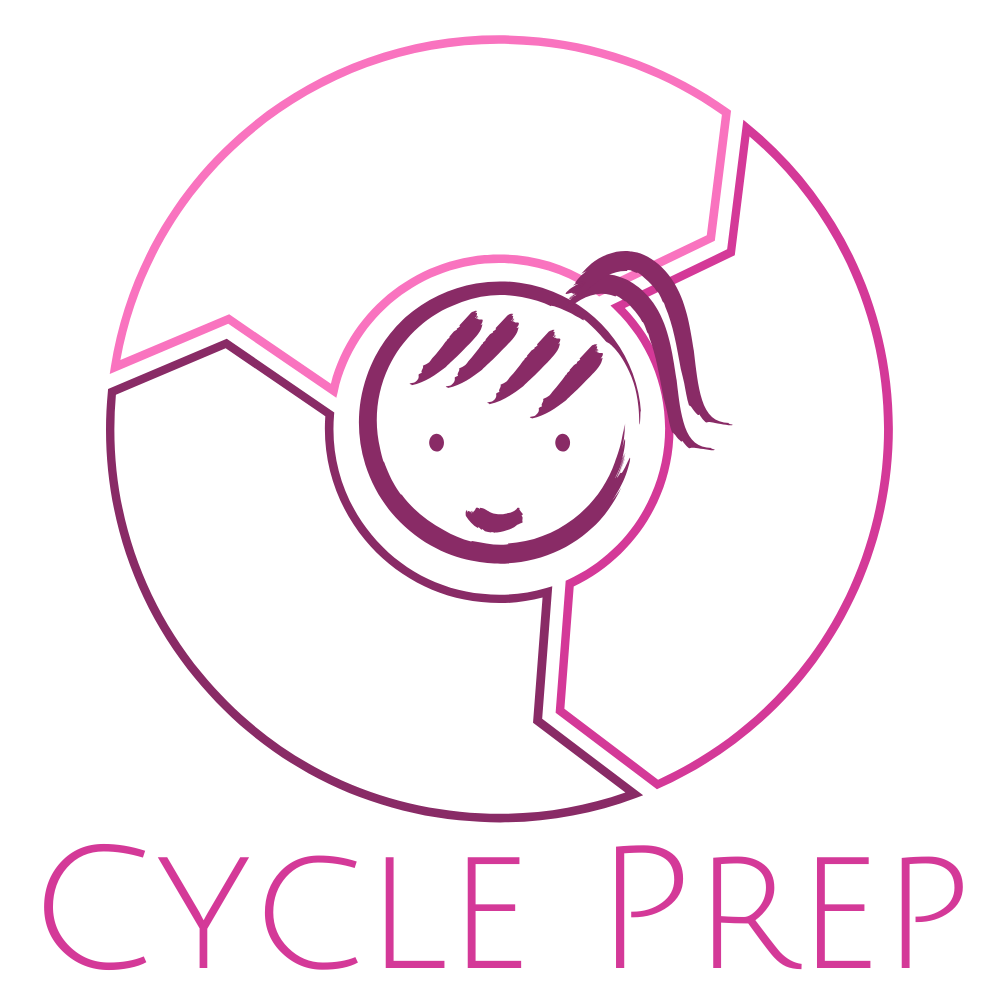 ...a cycle and period education series to help parents + daughters be prepared, together!


Finally! A program which provides accurate science, helpful information, and respects the parents' role as primary educators.


Perfect for Catholic parents, homeschooling families, scouting troops, and more!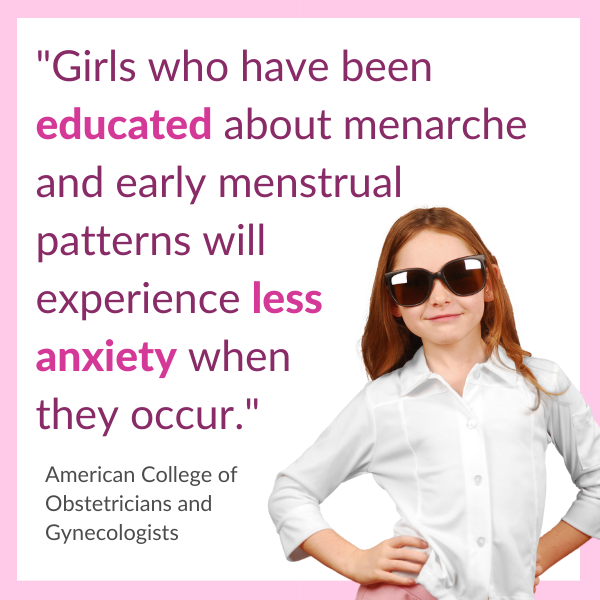 You can navigate puberty positively, together!
Research shows that your daughter will have a more positive experience of her first period if you take the time to educate her now.
The average age of menarche (first period) in the USA is about age 12, and most girls will show signs of puberty 2-3 years before that.
Invest in your relationship and in her confidence today!
What Makes Cycle Prep Unique?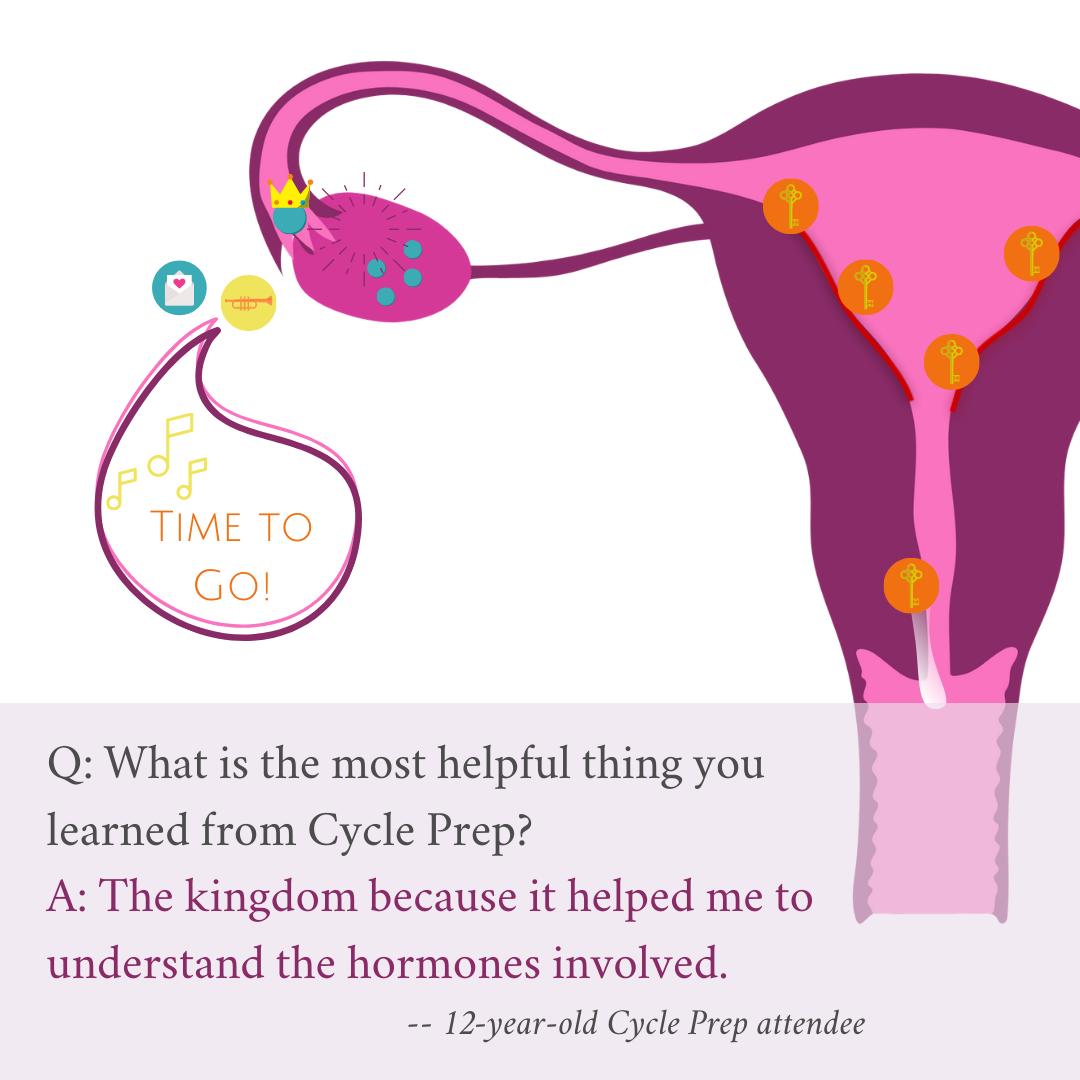 The Story of the Kingdom
Cycle Prep's unique way of inviting girls to discover the "story" of their menstrual cycle. Girls are introduced to four hormone helpers throughout the cycle, each with their own role to play as the Kingdom prepares for a special guest!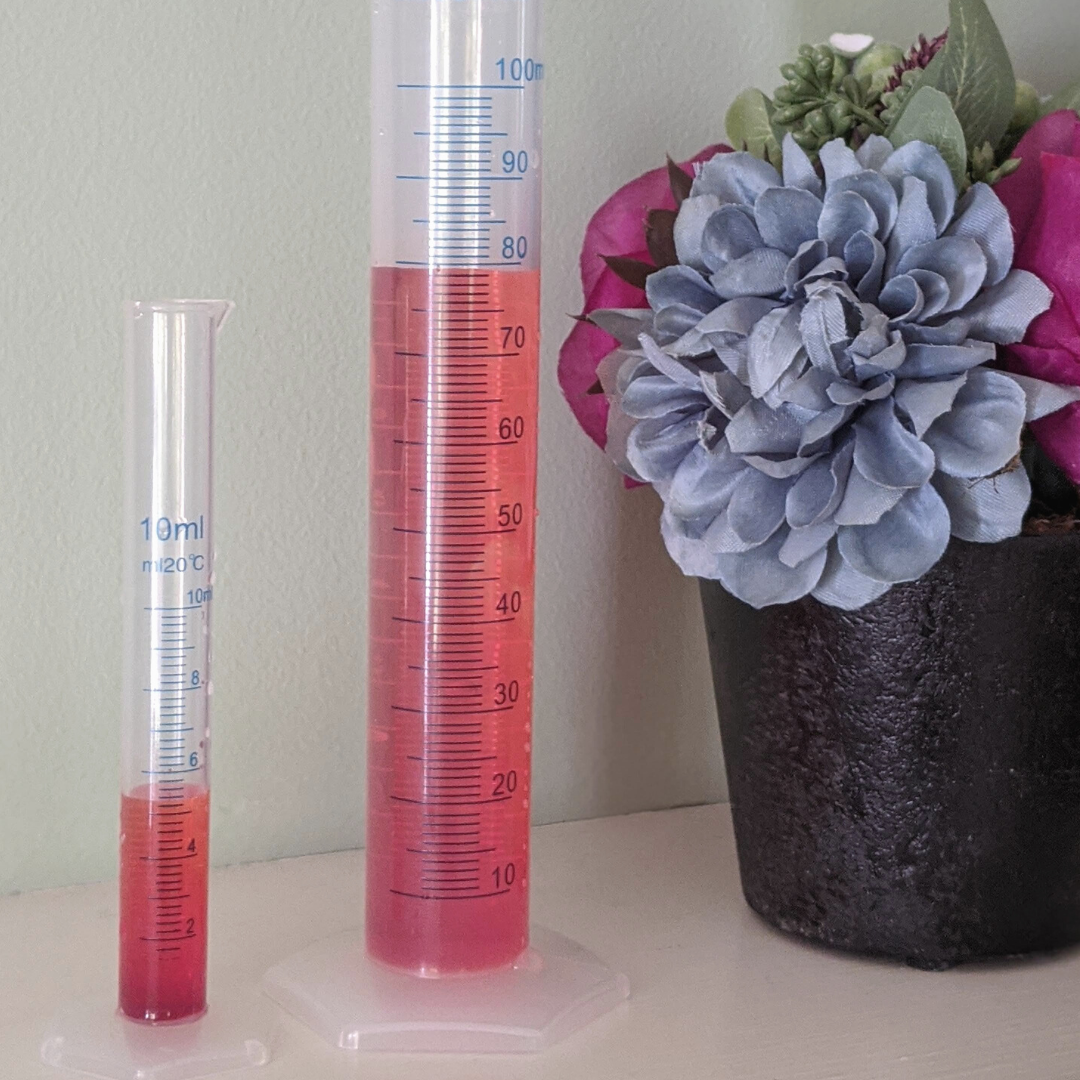 Effective Visuals
How much blood might I lose over the course of a period? What does cervical fluid look like? Concrete examples help girls understand what to expect as their body goes through the menstrual cycle.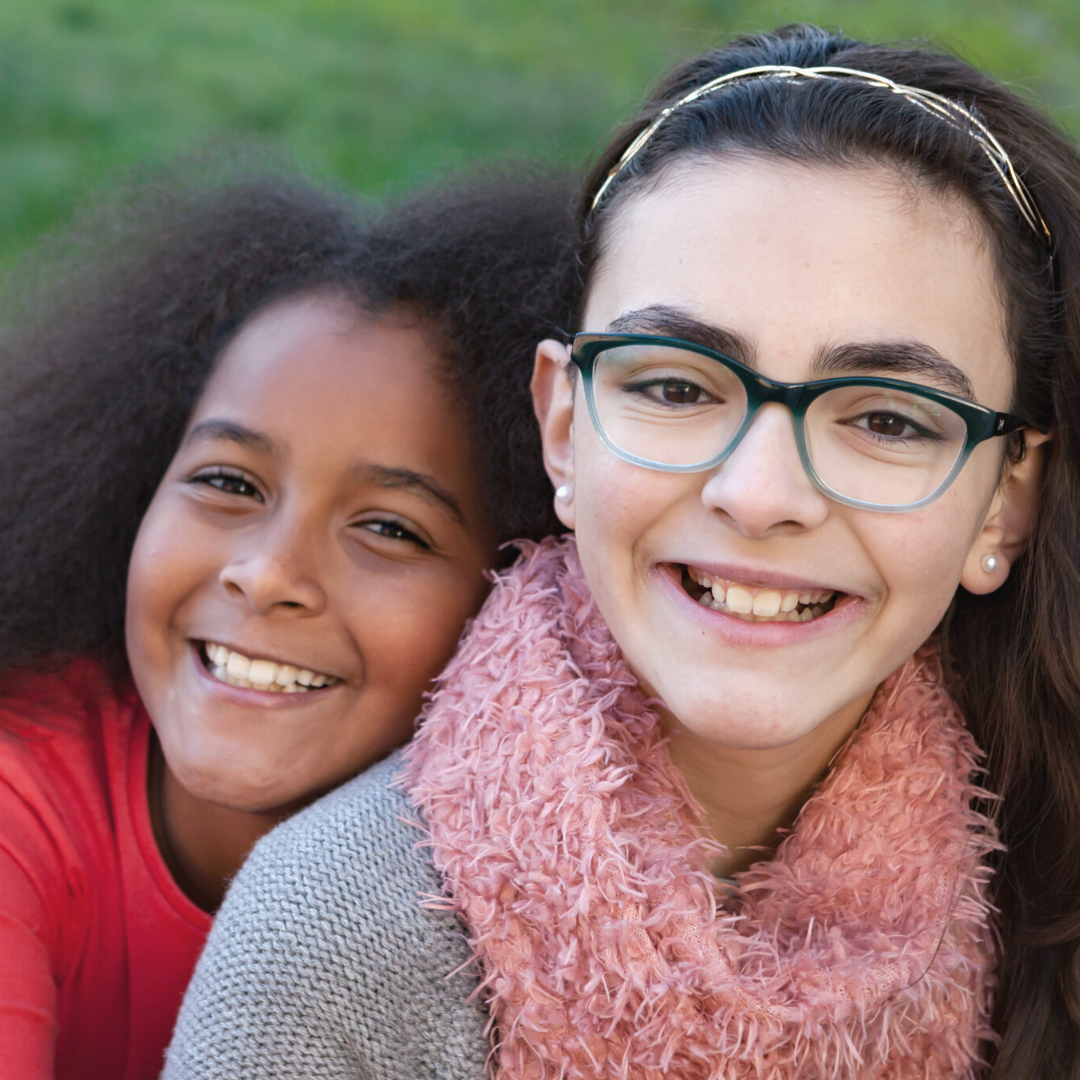 Creating a Culture of Care
No girl should be ashamed of her body and the important work that it does! In Cycle Prep, girls learn to care for themselves and others, so that we can create a culture of support for girls and women surrounding menstruation.
Four Self-Paced Video Sessions
Total: 75 minutes!
💕 Session 1: Introduction- A welcome video to girls and their parents, introducing the idea that a menstrual cycle is what enables a woman to eventually become pregnant. We cover basic internal female anatomy, and discuss the equation of life (egg + sperm = baby) which leads us to focus on the "star" of the menstrual cycle: the egg cell!
💕 Session 2: The Story of the Kingdom- This creative analogy teachers girls how to tell the story of the menstrual cycle through learning key roles and functions of four basic hormones: FSH, estrogen, LH, and progesterone. How do they help the kingdom prepare to welcome a very special guest? How does the guest prepare for its journey? What happens when the guest decides not to stay?
"I love your use of imagery and story telling. Such a useful tool for helping to set the scene for what is happening and why!" - Tori
"Loved your use of 'the kingdom'. You made it easy for my daughter to understand." - Crystal
"The metaphor was fabulous! It helped clarify and remind me of how it all works and I've been doing NFP forever😂! I'm so so so grateful to have found you. You are doing excellent work! Thank you!" - Alexis
💕 Session 3: All About Periods- This is where we decrease the anxiety and the nerves! Girls learn about what it's like to have a period, what her options are for hygiene products, and some key puberty signs which might tell her when her period will start. This section includes criteria to help girls determine if their cycles fall into a healthy range of presentation or if they should seek help from a trusted adult-- because a teenage girl's cycle is NOT THE SAME as a grown woman's cycle. And we should know the difference!
💕 Session 4: Creating a Culture of Care- Preparation doesn't end with knowledge-- now we need to learn how to be proactive about creating a Culture of Care for ourselves and one another! Girls learn about how the cycle affects things like energy levels and moods, how to put together a period kit, and our role in creating a positive culture of girls-supporting-girls around menstruation.
Plus- Lots of Bonus Resources!
Your Cycle Prep purchase comes with a library of downloadable PDFs including:
For the parents-
Talking to the Doc: a handy reference which can help you know whether your daughter's cycle is in a healthy and normal range, and how to talk to your doctor if anything seems "off."
Book Recommendations: Still feeling like you want more? I've curated a list of my favorite books for keeping the conversations going on puberty, cycles, and talking about sex.
A quick reference all about the hormones of the Kingdom. Don't worry about remembering all of it- you can use this guide to refresh your memory on hormones and their function at any time!
For your daughter-
A follow-along handout so she can label anatomy, take notes about what a healthy cycle includes, and even think about the hygiene products she's interested in trying!
A printable booklet to serve as your daughter's very own "Culture of Care" manual!
Parents are the most important people in their children's lives
Too many girls are not educated about the dignity of their bodies and the amazing work that goes on in their menstrual cycle. 
Periods are still taboo, which leads to undue shame, misinformation, and a lack of appropriate care for our growing girls. 
But you have the power to give your daughter all the tools she needs to navigate menarche positively, while building a foundation that will help you continue these conversations with her as she grows!
You have the power to create a Culture of Care, just by starting in your own home!
With Cycle Prep, you can do all of this:
affordably

at your own pace

with the confidence of knowing that the values you want to teach your daughter will be reinforced in this presentation.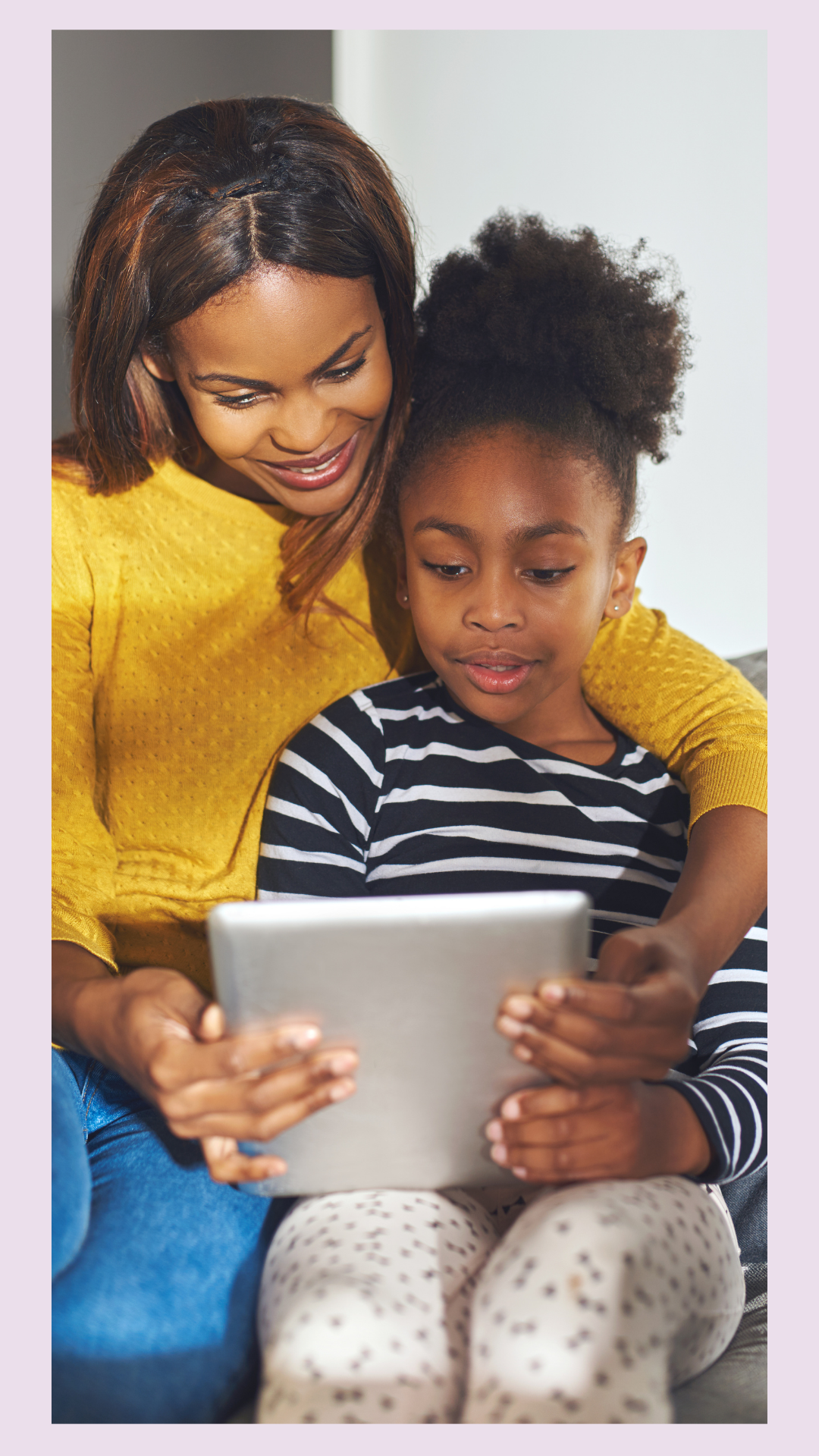 What Are Moms & Pediatricians Saying About Cycle Prep?
Moms:
"I really enjoy every single part. I really as a woman and mom appreciate your wording. Absolutely clear! Thanks." — Claudia
"Very professional, informative, and my daughter felt comfortable with what could be an uncomfortable topic. Thank you!" — Kristen
"Thank you so much for this program! It really laid the foundation for me to be able to further discuss and explain puberty with my daughter. I loved the way you presented everything! From the hormones and the [Analogy of the Kingdom] to caring for ourselves and our friends." — Rosey
"The way you explained everything to the girls was so simple and easy to understand." —Carla
Pediatricians:
"What an excellent workshop! Cycle Prep explains the complex science of the menstrual cycle in a way that is both understandable and engaging for young girls. Being prepared is key, so I recommend this to all young girls and their parents well before they reach menarche."
— Rebecca Sweeney, MD
"Christina's Cycle Prep workshop is a wonderful resource to guide parents' discussion of puberty with their daughters... Girls who complete the workshop will feel prepared: they will understand the anatomy, be equipped with practical tips, and respect the meaning behind a woman's cycle. Families will appreciate the flexible format, which allows parent and daughter to complete short sessions together at home, at their own pace."
— Andrea Patrico, MD
Can I Get A Preview?
I get it. It's a big leap of faith to entrust someone else's voice to these very important topics! So I've put together a brief video which previews some core elements of the program and gives you a feel for the tone of the presentation.
FAQs
What age is this best for? 
Ideally, a girl would attend this workshop prior to the start of her period-- so the materials are written to appeal to girls in 3rd-5th grade as a primary audience; however, teens will still gain a lot of good information about cycle science, hygiene, and self-care throughout the cycle. 
Do these workshops cover sex-ed? 
Cycle Prep is not a sex-ed workshop. We mention the role of the cycle as a means to eventually carry a pregnancy and briefly discuss the "equation of life" (egg + sperm = baby), but the focus of the workshop is on cycle science, period education, and personal care throughout the cycle. 
Do these workshops cover other puberty changes? 
Body changes are briefly mentioned, but this workshop is focused solely on menarche (a girl's first period).
Is this a religious workshop? 
No. I am a woman of faith, but there is nothing religious within the workshop. Every girl deserves accurate knowledge about her growing body along with practical suggestions for self-care and care for others.
More questions? Email me at [email protected]